Spotlight on Tipperley Hill
It's not a secret that I like to collect art, I have gallery walls all over my home. When I first started on Instagram, I discovered the talented ladies Abi and Roz @tipperleyhill and @tippettartist, two best friends who seem to have an absolute ball creating the fantastic art that they sell together, while one lives in London and the other one in Leicester. I have several pieces in my home, because they are truly unique but also appeal across the ages from skulls to dinosaurs to quirky animal prints. You can find out more at tipperley-hill.myshopify.com.
Introduction
Abi and Roz are the brains behind Tipperlyhill, a company that sells quirky animal prints, skull art, fashion-forward wall art and bespoke canvases for the home. The unique name is a combination of their maiden names Abi Tippetts and Roz Berkeley-Hill. They met whilst working together at a textile studio in New York.
Abi, based in Leicester has a gift for illustration and loves drawing animals while Roz over in London, 'fits' the characters with their colourful shirts through her love of pattern and design. The duo meets every few weeks to work together and the end result is a unique collection of illustrations and artwork.
When they're together they also create larger abstract, landscape and floral paintings during what they call, a "freestyle art jam sessions" often accompanied with a bottle of Prosecco.
1. What was the reason behind you starting your business?
Initially it was about doing something together again; two best friends working creatively. We first met in New York working at textile designers but both of us had taken some time away from the textiles industry to bring up families and had been talking about doing something together but we weren't sure of what. We couldn't commit to another studio based job so we decided to start something of our own, fitting it into our lives and doing things the way we wanted to do them. We both have two boys and wanted to make artwork that would sit in a boy's room without being about football or superheroes, it started from there.
2. How did you start up?, kitchen table? Mum's garage, renting premises?
Roz heard of an art sale local to her and we thought we could try out a collection of hand drawn original artwork and prints. We spent some weekends and late nights sat at the kitchen table getting the pieces together and were really pleased with what we had and felt that we'd done something different enough to get people's attention. Sales were good but more importantly the feedback was really encouraging; the people we hoped would like the work did, so we knew we had something to move on with.
3. How did you fund your business?
Right from the start we decided we didn't want to throw loads of money at it, it was important to us both that the artwork should be strong enough to sell itself and that marketing could be done inexpensively. Every penny from the first few sales we did went back into printing more stock, bit by bit we have built it up. We do tons of promotion on social media which allows us to connect up with similar minds. We work with a local print shop and we keep to small print runs to minimise risk, this also gives the collections a more exclusive feel. It's not the sort of business that relies on a huge budget because the idea is simple; we create interesting artwork and people who like it buy it.
4. What was the most difficult part of starting up your business? Access to money, advice, finding people to buy, marketing etc?
The only difficult thing has been convincing our family and friends that this is actual work. Nothing gets done without a lot of laughs, music, and the occasional bottle of fizzy something. Both having young families it's hard to find the time for everything that needs to be done, but we manage it, even if we have to do a few all-nighters. We're doing something we love and something we believe in, we hope that comes across in our art work.
5. What help was missing for you?
We've never ever thought about needing help from anyone really. We've both worked in creative industries before plus a lot of this we're just making up as we go on, working on an in-built design instinct we both seem to have. Working together also means we can advise and listen to each other when something needs working out. The most useful help we've had has been from people sharing what we do and saying positive things about the artwork online. That said if anyone wants to send us some cash we won't mind.
6. What went wrong in your first year? Few months if you haven't been trading that long?
The only thing we had trouble with was how much we should charge for the prints. Early on we sold some original artwork and looking back and after talking to other artists we realised it was something we hadn't priced properly. The lesson was we learnt to value our work more and each sale tells us we've got the pricing right.
7. What have you learnt?
Measure things. We literally high five each other when we get it right. When we started we'd create work without really thinking about things like mount sizes and framing. Now everything we do fits into standards frames. We have also learnt to trust our instincts and just go for it. As we've gone on we've also become a bit more organised with the more practical business bits.
8. What is the most important piece of advice that you could give others thinking about starting a business?
Do something you enjoy, love being with the people you work with, and be ambitious with the quality of what you produce and not just with how successful the business could be. We have always tried to be true to ourselves no 'fake it till you make it' here.
9. And what do you enjoy the most?
Working with your best friend is number one but close is when somebody buys a print and then lets us know how much they like it. We love seeing our work on people's walls and love it when people send us pictures of the prints in their homes. We truly do a little happy dance each time we sell our work.
10. On a scale of 1-10 how hard do you find it to run your own business?
We are both 'Fire starters' we start a million things in one day and then race around trying to finish them all. We have more ideas than we can physically get down on paper. We started this as we both love the painting side of it and as long as we get to do that regularly we are happy. Having the two of us working together on the same goal certainly helps, you don't want to let the other half down so we probably work twice as hard. The dream is to own a studio together so we can spend even more time doing what we truly love.
Nicola Says: I love that these two are best friends and what comes across in this story is their love and passion for their art, but not only that, how much fun they are having making it. The girls started out sensibly and slowly, trying out their product ideas on their customer before deciding which pieces to make more of, ensuring they were making something that people want.
They are using social media to get their art into their customers hands, which I'm seeing the use of more and more. It's less about traditional advertising and more about using the likes of Instagram and influencers and real people's homes to encourage people to buy. This allows you to start out, without a great budget or overheads and keeps the process real, with customer engagement at the heart of what you do.
Thanks so much Roz and Abi, for sharing your journey with me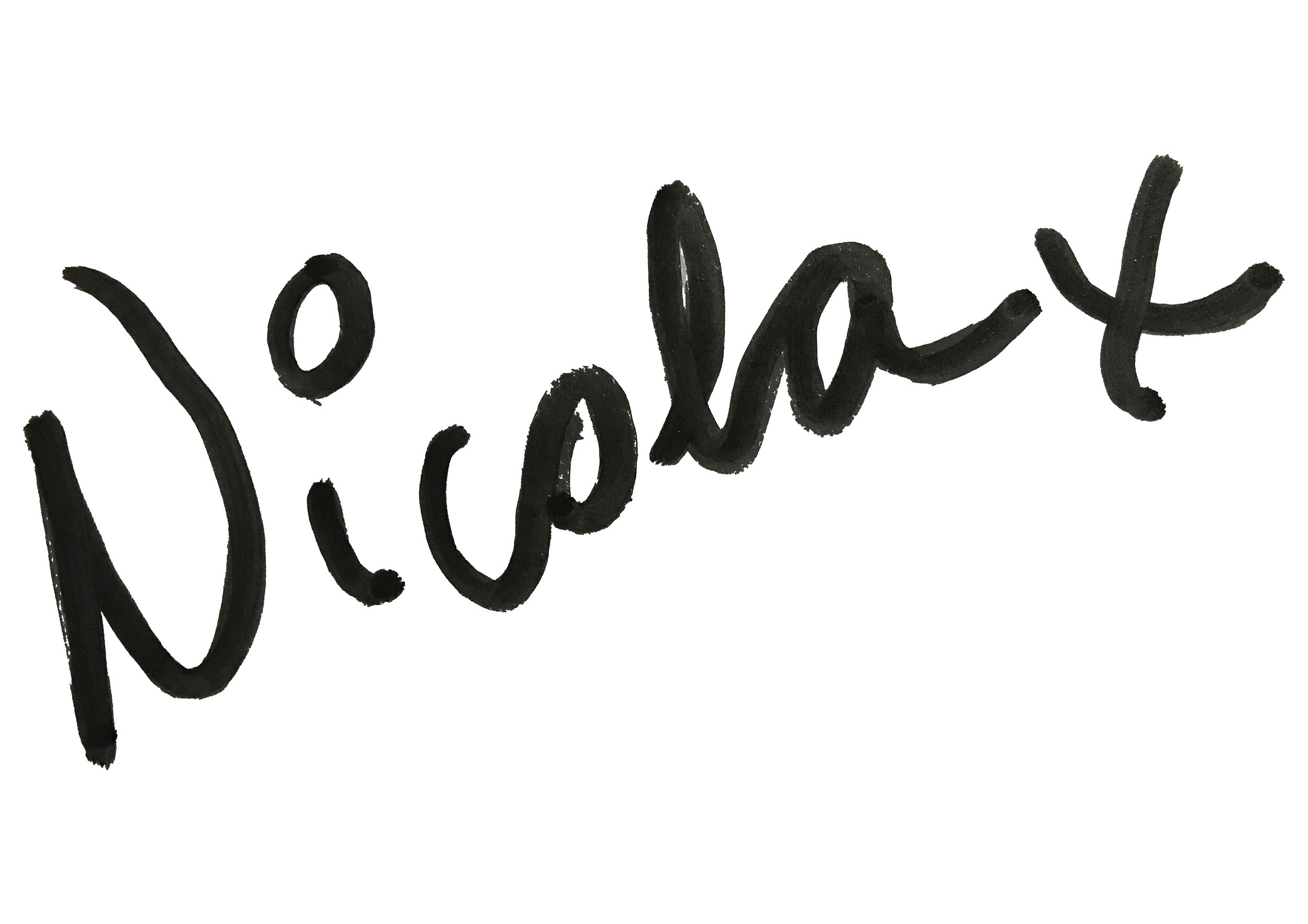 The Girl with The Green Sofa